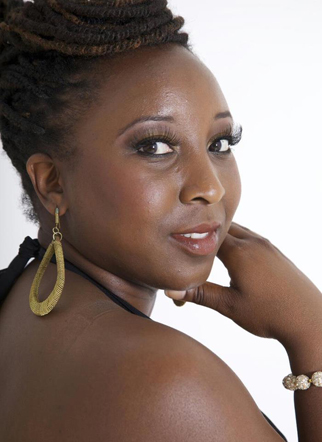 Rebecca Amissah is an inspirational vocal coach and the brainchild behind the Gospel Essence choir- participants in the Olympic Opening Ceremony.Rebecca's passion for music led to her selection as the Musical Director for 'Vision' a novice choir made up of Olympic volunteers who have performed at the Round House, Queen Elizabeth Park and many more.
'My Time to Shine' is a vocal workshop set up by Rebecca to help boost the confidence and stage presence of singers. The workshop has been highly successful and currently in its second year.Rebecca has worked with the likes of Basement Jaxx and Ghanaian artist D-Black and currently awaiting the release of her single.
Her dedication to her craft has led to her current nomination for the GUBA Rising Star award.
Rebecca gets the GUBA platform to tell us about herself…
Where does your motivation come from? 
My biggest motivation is fulfilling what I believe is my God-given mission, which is to inspire people through music and creative arts. I draw from life experiences as a source of inspiration for my craft. As a vocal coach my students motivate me and I enjoy introducing them to their own capabilities and watching them grow in confidence.
I am always motivated when I believe I am making a positive change in someone's life.
How does it feel to be nominated for the Rising Star award and what would winning mean to you?
I feel so proud and honoured to be nominated. Everything I have achieved in life so far has been through hard work, self-belief, determination and the Grace of God. To have been shortlisted feels like GUBA have acknowledged my efforts and it is reassuring that I am on the right path. Winning the award would be a real landmark in my life. Having the recognition from my community and a platform to continue to inspire people at a higher level is what I have been praying for.
What do you think about the GUBA Awards? 
There are  fewer platforms for us as a community to showcase what is truly unique about us, so the GUBA Awards is an example to the Black community as a whole. We must look to ourselves for mentors and inspiring figures to enable us to have a voice in the wider community. GUBA is going from strength to strength and getting bigger and better. The fact that a  young Ghanaian woman- Dentaa is the founder,  is such an inspiring aspect for me and other young black women. All the outreach work including raising awareness about autism  is very commendable and I am proud to be associated with such an organization.
 Do you have any plans of expanding yourself and your brand? 
I am currently working with The Prince's Trust to officially launch my businesses. Up until now, I have been freelancing as a vocal coach, and founded a choir named Gospel Essence, for events and supporting recording artists. With the help from The Trust I will be able to maintain the professional level of service that I have established. My personal singing career is also shaping up and I am currently working on my first album. A future long-term goal I have is to open up a performing arts school in Ghana.
Are you involved in any other projects? 
I am the Musical Director for three choirs, Gospel Essence, St Edward's Community choir, which I run with Nicole Hobday, and Vision Choir. Vision is made up of Olympic and Paralympic performers .
I am also involved with Tiny Mites Music teaching children aged between 6 months and 5 years old through music, dancing and hand puppets. This job is an absolute joy. To see these children develop and express themselves in the weekly sessions is so magical.
I studied Technical Arts and Special Effects at Wimbledon School of Arts so I love to make things, I am currently making props and costumes for a future photo shoot I have planned with Gospel Essence.  Finally, I am working with BAFTA-nominated director Tom Tyrwhitt from One Another Films, composing and arranging choral vocals for songs for the sound track of an upcoming feature.
What message of motivation would you give to other young people? 
My message to any young person is no dream is too big, no goal is unachievable, even the word impossible says I'm possible so do not take on the negative projections from others. Believe in yourself and live your life with passion. Doors will open for you and the right people will come to you to breathe life into your dreams and make them real. Never give up and it will happen.
Do you have anything else you would want to add?  
I would like to say a big thank you to everyone who has supported me in achieving my ambitions so far. I have a supportive network of family and friends who have so much belief in my capabilities  I thank God for all these people and If I win the Rising Star award it is down to them and their unwavering belief and support
Rebecca has come very far with her work in music and we are sure she is destined for even greater things. We encourage everyone to support her work.
Vote for Rebecca for the GUBA Rising Star award at https://www.surveymonkey.com/s/rising-star
Find out more about her vocal workshops at https://www.facebook.com/MyTimetoShineWorkshops